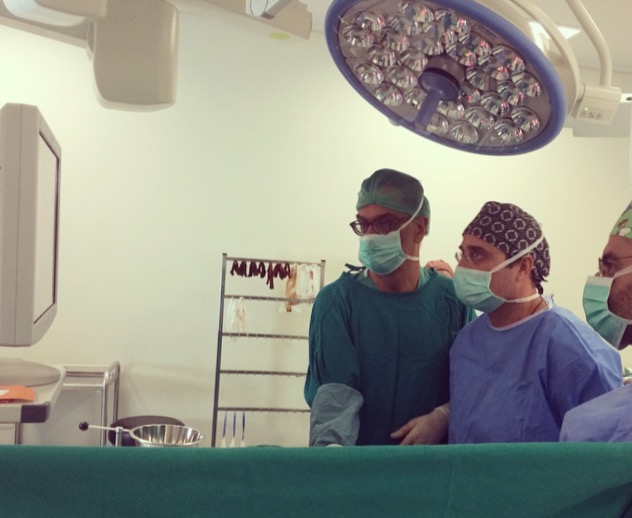 29 Sep

FATHER OFFERS THE GIFT OF LIFE TO HIS SON – LAPAROSCOPIC NEPHRECTOMY FOR LIVING DONOR KIDNEY TRANSPLANTATION AT "EVANGELISMOS".

One more successful laparoscopic nephrectomy for living donor kidney transplantation was concluded today at "Evangelismos", validating  once again the success of this method in Greece – as adopted and implemented exclusively by the 1st Surgery Clinic & Organ Transplantation Unit of the G.H.A. "Evangelismos", run by its Coordinating Director, Dr. Spyros Drakopoulos – following the standards of International Transplantation Centers.

The laparoscopic removal of the renal graft from a father aged 73, was concluded today  by Dr Vasileios Drakopoulos, supported by Dr Nikolaos Roukounakis and assisted by Dimitris Konsantinou and Vassilis Kalatzis, members of the surgical team. The renal graft, after its removal, was transplanted to the donor's son, aged 41, by the Clinic's Director, Dr Vassilis Vougas, assisted by Eleni Daskalaki and Sotiris Voulgaris. The procedure was impeccably supported by the Anaesthesiology, the Immunology and the Nephrological Departments, as well as the Nursing staff and the Transplant coordinating Unit, led by Dimitrios Pistolas & Aikaterini Balaska.

The aim of the laparoscopic removal of renal grafts method is to increase the number of living donors in our country, since it ensures the safety of the kidney transplant procedure, excellent renal function to the recipient, as well as fast recovery to the donor.