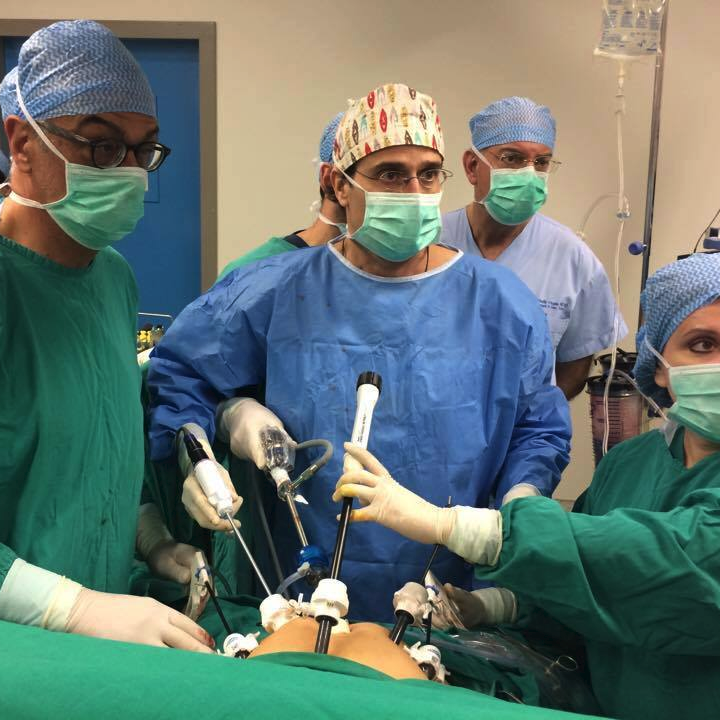 04 May

First Worldwide Laparoscopic Total Pancreatoduodenectomy in a patient with coexisting IPMN & SPNP neoplasms at the G.H.A. "Evangelismos".

The highly complicated laparoscopic total pancreatoduodenectomy with concurrent lymph node cleansing was successfully completed by Dr. Vasileios Drakopoulos, at a very rare case of a patient with coexisting  Intraductal Papillary Mucinous Neoplasm (IPMN) and Solid Pseudopapillary Neoplasm of the Pancreas (SPNP). It is worth mentioning that it is the fourth recorded case of a patient with coexisting IPMN and SPNP and the first time they are treated laparoscopically.

Dr. Nikolaos Roukounakis valuably and continuously supported the procedure, along with the contribution of Dr. Dimitrios Manganas, both Directors of the 1st Surgery Clinic & Organ Transplant Unit. Dr, Vassilis Vougas, Head of the Clinic supervised the process, while  surgeons Eleni Daskalaki and Sotirios Voulgaris both assisted Dr. Drakopoulos. The Nursing Staff of the Hospital and members of the Anesthesiology Department  – Varvara Sfyra, Spyridoula Anthi, Vasiliki Bisbikou, Panagiotis Ouranis  – substantially supported the long procedure, while Anesthesiologist Stella Giannaraki continued to support the patient postoperatively.

The patient, cared after by the medical and nursing staff of the 1st Surgery Clinic and following numerous post-operative exams by the Director of Radiology, Dr. Eleni Antypa, left the Hospital in excellent condition.